Smart Community
CIS offers array of smart solutions in Governance, based on cutting-edge technologies and state-of-the-art research and development. These smart solutions are AI driven, IoT and data science based intelligent solutions. Few of these indigenously developed solutions are:
Smart Audio-Visual Bulletin / Advertisement / Announcement Solution
Smart Water Meters
Smart Toilets
The very purpose of these solutions is to build and synchronize with the Government's mission to smart community. It enables communities leverage smart usage of technologies as a part of basic city infrastructure for the socio-economic growth and well-being. The emphasis is always to make these solutions economically and environmentally sustainable.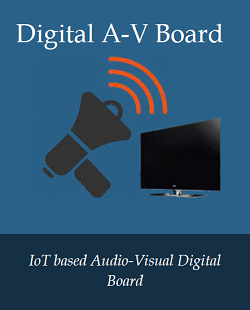 IoTAV
The IoT based solution is one of its kind, completely and comprehensively capable of delivering the promised content in any geography with internet or mobile network connectivity. The novelty of the product is a single secure platform for delivering myriad information, be it text, image, audio or video in any geography at any point of time during the day. The solution is weather proof and is perfect for outdoor as well as indoor installations. The various components in the solution are connected through internet and the cloud-client applications are also accessible through mobile and computers at installation locations. The application has been made completely secure keeping best industry practices for data provenance, privacy and safety in mind. 
Read more..
Smart Toilets
Water Conservation
Always Better Hygiene
Realtime Serviceability Alerts
User Perception Shift for Increased Usability
Optimum Human Resource Management
Central, Remote Infrastructure Monitoring
Strategy for a Sustainable Model Read more..
Smart Water Meters
Across the globe one of the most focused natural resource conservation is water conservation. So, is every Government has its initiatives to improve the infrastructural set up in terms of Pipelines and its distribution network. Further the biggest challenge is the high percentage (30 – 50 %) of non-revenue water, which is due to missing / weak / unmonitored water metering in urban / semi-urban populations.
CIS smart solution help the initiatives bring smartness into water distribution network as well as household basis accurate water consumption monitoring and billing based on actual accurate consumption. The solution offers smart ways to gather user data with minimal / no field staff for recording meter readings backed by the appropriate technology selection during the early stages of implementation. Read more..